Museum collections inspire home design and decor
2016-09-16 | jlbworks
News
---
By Kim Cook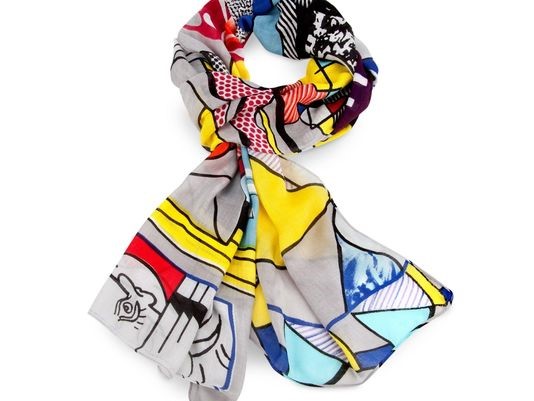 When you visit a museum exhibit, you might be so taken by an item — a striking textile, say, or a cool artwork — that you'd love to actually own it.
Museums are feeling you. Many have robust licensing programs with design firms and manufacturers to reproduce patterns or use artifacts as inspiration for new designs.
Cultural institutions see these partnerships as a way to broaden their exposure and fund ongoing work. Home decorators appreciate the opportunity to incorporate items that are often imbued with historical or cultural provenance.
Ruth Shapiro, spokeswoman for New York's Museum of Modern Art, says licensing serves multiple purposes.
"It's a powerful way to extend MoMA's brand and educational mission, it enables us to engage with new audiences, and it generates an ongoing revenue stream that provides valuable funding for the Museum," she says. Profits from the museum's retail arm go back into programming and exhibitions.
Gilbert Baker's 1978 "Rainbow Flag," which has become a symbol of the gay pride movement, recently became not only part of MoMA's permanent collection, but part of its gift shop collection.
Imagery from Roy Lichtenstein's 1983 "Green Street Mural" and 1967's "Modern Painting with Bolt" appear on scarves. A watch features detail from one of Jackson Pollock's last paintings, 1954's "White Light."
MoMA has the U.S. rights to distribute a set of home accessories featuring artwork by Rene Magritte; a collection of melamine plates using the images is at Fab.com.
In 2014, MoMA teamed with Uniqlo to showcase the work of artists like Warhol, Basquiat, Mondrian and Haring, and that program continues.
"This partnership has been really exciting for MoMA," says Shapiro. "It's one of the first times we've licensed artwork from our collection to be used on apparel and accessories." Museum curators work closely with Uniqlo, she says, selecting themes and approving products and packaging.
The Museum of New Mexico, which is composed of four distinct institutions, including the Museum of Indian Arts & Culture and Museum of International Folk Art, has license arrangements with several home furnishings companies.
"New Mexico has always attracted adventurers and artists (who) have given generously to our museums," says Pamela Kelly, spokeswoman for the Museum Foundation.
"The majority of the pieces held in our museums are one of a kind because they were made for ceremony, celebration or daily use. Because so much of our material is culturally based, we ask our licensees not to 'reproduce' any given material, but instead to find inspiration in it and adapt it in such a way that the elements of the original piece are evident, but a new work of art or form is created," she says.
Last spring, Atlanta rug maker Jaipur Living was inspired by the Museum of New Mexico's extensive Kuba cloth collection.
"These fantastic, graphically rich patterns were interpreted by our designers and then made into rugs using sustainable fibers," says Jaipur's president, Asha Chaudhary.
North Carolina-based Valdese Weavers is another Museum of New Mexico licensee. Its Puebloan jacquard upholstery fabric was inspired by an ancestral pot from 1000-1200 AD. Capturing the original ridged surface and a sense of the artifact's long life involved watercolor painting, digital scanning and weaving, using cotton and chenille yarns to mimic the textile's weathered surface.
Hickory Chair Furniture has licensing deals with the Museum of New Mexico and with Winterthur, the former Delaware home of Henry Francis DuPont that's now a museum of decorative arts. Hickory's collection includes the elegant Alexander sofa, adapted from a design found in a Thomas Sheraton book in the home's library, and a dining table with Chinoiserie motifs drawn from a wall covering.
"The true essence of the designs would be lacking without the insight gleaned from working directly with the Museum," said company spokesman Skip Rumley.
Other institutions have also boarded the licensing train.
The British Museum announced a deal in June with Moorland Rug to produce rugs based on the works of Japanese artist Katsushika Hokusai, known for his wave and crane prints. London's Victoria and Albert Museum has several licensing arrangements with international furnishings companies to utilize patterns from its textile archives. And quilts, ornaments and furniture have been based on collection and design portfolio pieces at New York's American Folk Art Museum.